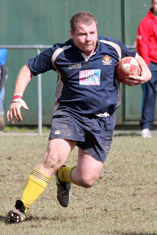 Training
Training has started for the new season on Tuesdays and Thursdays at 7pm at the Penarth Athletic Field.
New players welcome
Membership Fees
If you would like to join Penarth RFC please contact Peter Goodfellow, Membership Secretary.
Fees starting from £15 for OAPs  include access to the Athletic Club and free entry to all SWALEC Division 2 East Central home games.
ANNUAL DINNER & PRESENTATION EVENING
This year the dinner was held at Penarth Athletic Club on Friday 6 June.
Award Winners
Richard Ball received his cap for 100 appearances.
Most improved player – Jerome Bryan
Clubman of the Year – James Docherty
Cogan Coronation player of the year – Scott Mackie
Kevin Bush Memorial Award – Sue Seymour
Club Player of the year – Joe Page
Congratulations All.
Volunteers
Do you have some spare time on your hands and would you like to assist in the running of Penarth RFC?
If you do, the club will always welcome volunteers to help with day to day duties within the club, whether it be on home match days, training nights, sponsorship or assisting in any capacity that will benefit and support Penarth RFC. For further information please: